Discussion
Hi! I'm excited to share my stories and photos from my book "Fearless Genius" and answer any questions you may have about what it was like to be a witness inside the digital revolution. Steve Jobs trusted me with unprecedented access for 3 years to document him with his team, which led to insider access to shoot other leading innovators at most of the coolest companies of the 80's and 90's like Adobe, Microsoft, Apple, Kleiner Perkins, Intel, Netscape, NetObjects and over 70 others - the people who built our world as it turned out! My subjects found their mission and meaning in life through their efforts to invent tools that would improve our lives. What are you willing to sacrifice to accomplish your dreams? I want to also welcome today Karen Mullarkey our director of photogrpraphy who actually counted the 250,000 images from my archive that I shot over the 15 years in the Valley. Thank you Karen!
@dougmenuez This is amazing! I have a few questions if that's ok :) 1. What is the most valuable lesson you have learned from Steve Jobs? 2. What is the best experience you've had while witnessing the digital revolution from so close? 3. I collect quotes from people who give advice in 6 words or less. So... what is the best advice you can give to tech startups in 6 words or less?
Okay, most valuable lesson from Steve Jobs: NEVER EVER GIVE UP FOR ANY REASON EVER!
TECH STARTUP ADVICE: Keep your overhead low and stay humble. I shot over 70 startups and those that spent a lot on decor and perks all failed. I understand now you need that to attract engineers in this market, but I wish it could be about the mission, that they believe so passionately in your mission they sacrifice
What is the best experience you've had while witnessing the digital revolution from so close? I would say it was also the worst, which was documenting the Apple Newton team working against all odds to create a new handheld computer for a new market. They had only 30 people writing a million lines of code, then had to rewrite all that code, in a year when they switched chips. The camaraderie and intense effort took over everything and was very inspiring to me. It was a group of dedicated people on a quest to do something new. Then one of the engineers killed himself, which was devastating. So I don't think people realize the level of sacrifice people were willing to make in those days to invent this stuff. But that is why it was the best and worst experience. i learned a lot.
@dougmenuez Wow... thank you so much for sharing your story.
Welcome, Doug! How did you get into photography to begin with? Who inspires you most?
@rrhoover My dad - gave me a camera at ten and I never looked back. I shot anti war demonstrations when i was 14, became an apprentice in a studio, studied art at SFAI and then became a journalist with a degree from SF State. Got my first internship at the Washington post and the following year became a freelancer for Time, Newsweek, USA Today, etc
@dougmenuez props to empowering parents. My father gave me several opportunities and encouraged me to start small entrepreneurial projects. If it wasn't for his support, I probably wouldn't be doing what I do today and we wouldn't be talking with each other here. 😊
I just love your work!! What would be one of the more memorable moments in terms of shooting the candids "as they are happening" shots that appear in your book?
Welcome Doug! Steve Job has been time and again quoted as a visionary. Can you remember some first-hand experiences where you could see how powerful his vision was and how that reflected in his personality?
@vishalrohra293 The cover shot of my book ( a terrific gift :) shows Steve at an offsite where he gathered a group and was explaining his vision of development cycles. He described the typical 25-30 year cycle, of which we are now on the tail end, which is why shit actually is starting to work ok - today most of what you see as innovation is actually amazing iterations of earlier innovation- and within that big cycle he explained there were shorter cycles and with his new NeXT computer, he hoped that they could ride the current 10 year wave for workstations that had emerged with Apollo and Sun, he wanted to blow them away specifically with a powerful computer for education. When I asked him what he really hoped to accomplish, he turned to me and said He actually said he wanted some kid to cure cancer in his dorm room at Stanford with the NeXT Computer. My head exploded. But he often would come back after lunch or meetings with the leaders of the valley and take their ideas and information and process it through his brain and explain it to the group
Thanks for joining us @dougmenuez! Fearless Genius is an amazing project, I'm intrigued by the history of Silicon Valley. Curious if you can share what it was like being around people like Steve Jobs, Bill Gates, Gordon Moore at that time, and what the environment was like with the employees at those companies. Particularly, in comparison to the more playful atmosphere some startups/tech companies are known for in this day and age. Amazing Photographs.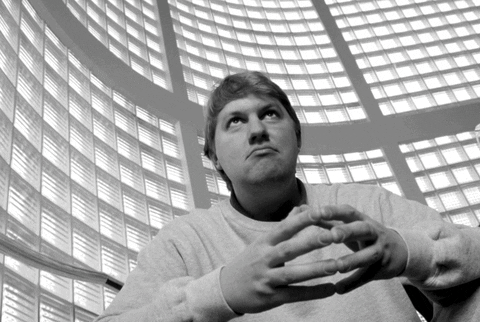 To answer Niv, when I got to the valley, it was a transition from the space race days where everyone wore suits and ties to this new generation of humanist almost hippies who wanted to build tools to improve our lives. They knew they'd make money but that was secondary to inventing cool shit. So it was extremely interesting to see the culture clash with this whole new culture being created.
Gordon Moore and Intel, and the older companies like HP were very traditional. Even though they were disruptors at one point - then companies like Apple and Microsoft and all the new start ups grew and became disruptors in every way. They changed how management worked, marketing, manufacturing, the whole nature of how we work with flex hours, flattened hierarchy etc. Now you could sleep under your desk, work from home, whatever as long as you got the code done
@nivo0o0 Thanks again Niv. The playful atmosphere you see today I don't see as so playful. When I visit startups today the pressure feels just as great if not more so than what I saw then. But there was much more innocence I think. I remember going into Netscape when they were super hot and getting stuck for hours with the encryption guys - they were actually using these psychedelic bubble generators to create random bubbles that would get assigned numeric value - can't think of the name of those glass jars, curved... from the 60's
@dougmenuez Thanks so much for joining us today! During your career to date, what is the best piece of advice you've ever been given? Flip side - what's the worst?
@ems_hodge the best advice is to align your passion with how you make a living. In the end it's all about what you are willing to do to accomplish your dreams, to use your potential. Life is too short to not stop and figure out what you care about and go do that. That's also the secret to happiness :) But it's really hard of course and can take years to get there, if ever. Bad advice? Can't remember but I got a lot of that around business stuff...
Which is your favourite photo in the book and can you tell us why and story behind it?
My favorite picture from the book? SO TOUGH. These are all my favorites - we pulled 100 from the whole archive to make the book, that Atria then published, thanks Atria! But I'd say the one of Steve dreaming, deep in thought is close to top favorite. Because, he had this amazing ability to pull patterns together that others didn't see. He was incredibly creative and this moment shows him in that process
Hi Doug, What's a project that you've always wanted to work on but haven't? Why not?
@jeffumbro Hey Jeff, I'm always starting projects -it's finishing that's hard. Right now I hope to get back to Brazil to work on a project I started there about the changing culture. But with Fearless Genius it's taken on a new life beyond the book. We are also doing a doc, a web series and now an education program through our new foundation. We actually taught the first segment at MIT's Lisbon MBA program recently.
Tikh
@tikhbana
 · Marketing, Open Systems Technologies
@dougmenuez Who was the most challenging (or intimidating) to photograph and why?
@tikhbana hands down Steve Jobs was the single most challenging person to shoot. And I've spent time with drug dealers, in prisons, etc, but something about him was so hard - basically I think because he could see right into your soul, and also see your vulnerabilities. Photographers usually can hide behind their cameras to some extent. But with Steve he wanted everyone around him at the top of their game. He gave me this access, but I knew someday he'd turn to me and I'd have to justify what I was doing there. But I learned watching him with his team he wanted people who could stand up to him, who believed in their ideas. Using that, I actually won the only argument we had in three years.