Discussion
Hey hey, I'm Dennis Crowley the co-founder and CEO of Foursquare. I've been working on "building things that make cities easier to use" since I was in grad school at NYU. My grad school thesis turned into my first company, Dodgeball, which we sold to Google in 2005. For the past six years, we've been building Foursquare and Swarm, which are now used by more than 50M people around the world every month! Most of you probably know us for our two apps. The Foursquare app can help you find great places literally anywhere in the world and Swarm turns every day into a game as you check-in to earn coins, stickers and mayorships. The company is also hard at work behind the scenes tackling technical challenges. We've built a contextual awareness engine that allows us send all those smart pings to your phone and smartwatch and ad targeting technology (Pinpoint) that helps brands connect w/ people based on places they go. I also enjoy such things as snowboards, soccer, fixing broken dirt bikes, shooting arrows and throwing axes. Ask me anything!
Welcome, Dennis! What's the backstory behind your hat? 😊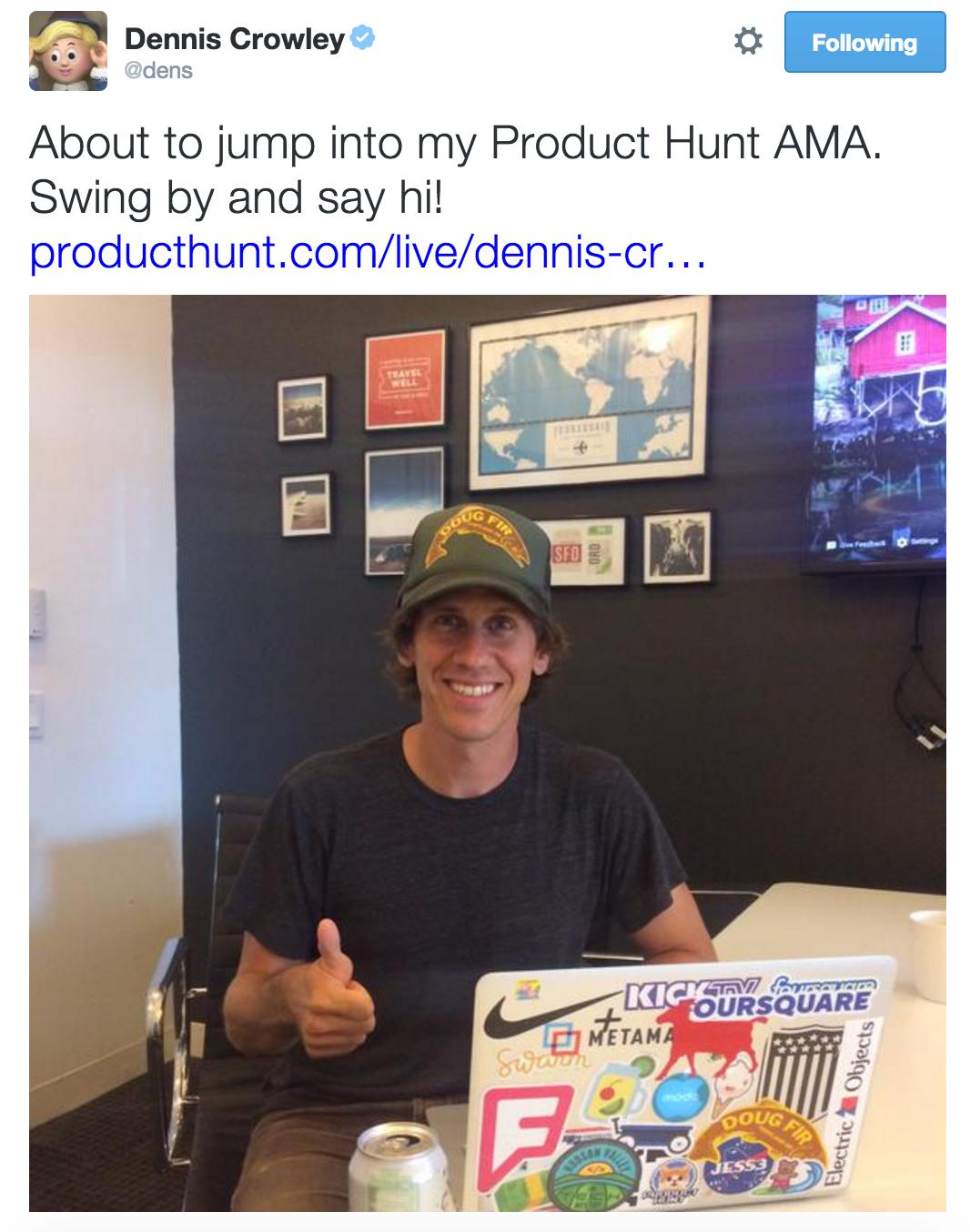 @rrhoover Ha, Doug Fir is a music venue in Portland. I met one of the founders (Jeff Kovel!) on a ski trip this year and he gave me this hat. Kind of awesome, right? (I got the same sticker on my laptop) Doug Fir Lounge 830 E Burnside St (at SE 9th Ave) Portland, OR https://foursquare.com/v/doug-fi...
@dens Do you have any "Requests for Startups" - ie things that you would like someone else built (or problems someone else solved)?
@tomasruta Ha, I have a list in my Evernote of "things I wish people would build off the 4SQ API" .... we're starting to get around to just building these on our own (Foursquare hack projects -- stay tuned). As for non-Foursquare, I hate the existing TV structure and I really like the *platform* that Apple rolled out today w/ AppleTV + apps. Excited to see where that goes.
@dens If you/Foursquare had a 1bn USD budget for acquisitions, who would you buy?
Hey Dennis! I've been using Foursquare since the early days and swear by it in NYC. Props for bringing back gamification to Swarm! What's one big lesson you learned from splitting Foursquare in two, and what would you do differently if you could do it all over again?
@jackdweck Hey Jack! Thanks for asking the first question! #1 thing we learned from the process of splitting the apps was the importance of communicating (and overcommunicating. and overcommunicating some more) to the fans and users of the product. I think we did a "just okay" version of this, instead of doing an A++++ job of it. I think we left some people confused early on and it took us a full 6 months or so to *really* explain the story to folks. In short, we underestimated how much work it would be to really tell the story of why we decided to split the apps.
@dens Honest question: Do you think Swarm+4sq was "just ok" initially and it's great now? I really understood the gamification being reduced to your friends only, as in most places it's impossible to be mayor of most venues due to cheating. And just the week after the leaderboard came back, I began to see again people doing tons of useless check-ins just to earn points (e.g: Checking in to country + city + venue instead of only venue)
@felipecn I think the first version of Swarm that we launched was "just okay" --- we tried to make it more utility (e.g. the "where is everyone?" app) and we misread how many people just LOVE LOVE LOVED the game. But we heard you... and we made it a huge priority to not just bring the fun back, but to do it in a way that made it 10x better. I love what the team has come up with and I am VERY PROUD of the product and team behind it.
Hi Dennis, I always loved being a Foursquare Superuser. Can you maybe explain a little bit what it means to you and Foursquare and are there any future plans for it?
@colazionearoma The Superuser Community is one of the most important parts of the Foursquare story + ecosystem. There are more than 40,000 of you around the world (!!) and you're a big reason our data is so fresh & accurate. We always listen to the community and continue to build new tools (and toys) for the Superusers to play with. If you have ideas for things you'd like to see, I'd love to hear them!
Dennis! What are your thoughts on the on-demand ride-sharing economy, and how does that impact your mission at Foursquare and Swarm? -Connor
@connorrlee Have you seen the integration we did w/ Uber (via Button): http://techcrunch.com/2015/06/01... Foursquare is great at knowing where you should go. Uber is great at getting you there. Button helped us launch this today (vs. 12 months from now). I'm a big fan of lots of companies working together to make little experiences better / easier / more frictionless (is that even a word?)
Corley
@corleyh
 · COO @ Product Hunt
Hi Dennis - thanks for joining! How do you think about teamwork? What are some of the attributes of company culture that you think are most important when building teams?
@corleyh Great question -- I think the most important things are (a) setting a clear leader for a team (no co-leaders), (b) giving them clear goals ("hey you gotta ship this thing by X date" or "you gotta raise MAUs by 10% by X date") and then (and most importantly?) (c) trusting them to just go out and get it done (aka: get our of their way / stay out of their business). The more we stick to these rules (and we don't always do it...) the better results we have.
Steven W
@mrwongsteven
 · Nice guys finish lunch.
@dens Did you pitch Dodgeball to Google or did they find you? Do you currently self fund your projects or still look for VC/Angels?
@mrwongsteven A little bit of both. I was at Google visiting a friend for lunch in 2004. Rumor got out that "one of the Dodgeball guys was in the office". And so I "pitched" like 4x that day to all different people... and then eventually it was like "you should just come here and work on this thing"